Oct 23rd 2008 - "The Subterraneans Show" DVD ready to roll
"The Subterraneans Show" - the band's long lost 1984 promo-video-cum-ultra-low-budget-50s-rock-n-roll-exploitation-flick - will be heading your way soon. Lost since 1988, when intoxicated Johnny & The Deadbeats frontman Johnny "Psycho" Watson mislaid the only VHS copy in an Edinburgh taxi, the video has been reconstructed from original super-8 cine footage recently rediscovered in Director Ken "Russ Meyerybank" Livingstone's shed.
"The Subterraneans Show" features flying saucers, commie spies, giant mutant lizards, fast cars, excessive advertising, chicks, gee-tars and rock n roll - everything you need in a proper 50s trash B-movie. And it was filmed in 1984 in Newvalley and a junkyard on Inaclete Road.
The original film was digitally remastered by Moja TV supremo Kenny "Fraochie" Stewart and the extensive team of specialists at his hi-tech research labs. Director Livingstone then re-edited Fraochie's digitally remastered footage together into a form that's probably sort of like it was before it got lost.
Click here for Stills. We'll git the full video posted up on YouTube soon.
Along with the DVD we hope to include a CD combining stuff from the band's 2 straight-to-cassette "releases": "Garage Fuzz" (1983) and "Swamp Psyche" from (1984). Predictably entitled "Swamp Psyche & Garage Fuzz - Lost Sounds from the Leodhasach Trashbeat Era" the CD will be padded out with and padding it out with dodgy "previously unreleased" front-room rehearsal stuff
---
Oct 26th 2007 - "Sad Day We Left the Croft" Documentary on YouTube.
Early 80s SY Rock Scene fans take note - Fraochy's recent BBC2 Ealtainn documentary on "Sad Day We Left the Croft" is now up on YouTube. Check out the myspace page set up by the Honcho coves at
http://www.myspace.com/saddayweleftthecroft
---
MLATRFOD Woodlands Gig Stuff also on YouTube
G*dd*m! 9 songs from Memphis Louie an the Rockin Firebird of Death's "acoustic" Woodland Centre gig on 16th August 2007 (the first since the Royal Hotel in September 1985) are now up on Youtube at
http://www.youtube.com/Dunringle
---
"18 Gators In Space" hits 3.7 on garageband.com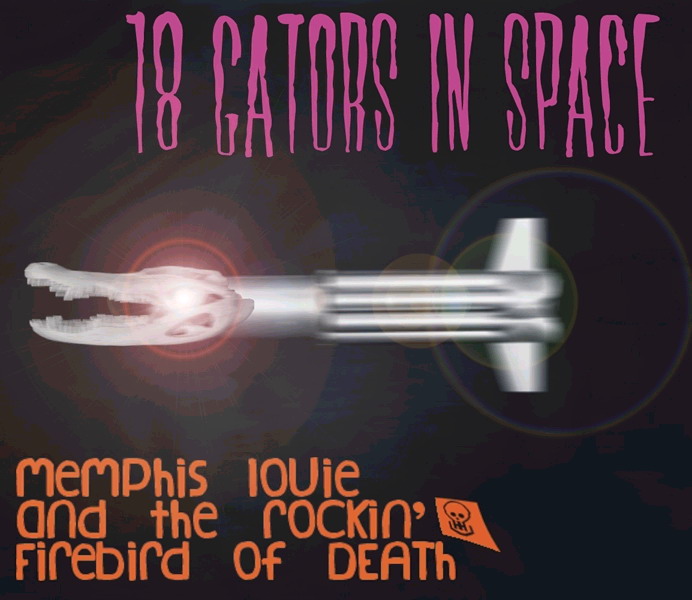 Yessir - back in 84/85, The Subterraneans and the old 5-man Memphis Louie lineup used to play this one, but they never got round to attempting a "studio" version. Now, after 20 years, survivors Memphis Louie an the Rockin Firebird of Death have finally done it, attracting an unbelievable 3.7 star rating at garageband.com Check out some of the reviews for a laugh (but ignore all the ones that say it sounds like the Cult).
---