Subterraneanans on Film
---
The Subterraneans Show (1984)
| | |
| --- | --- |
| (The bit with the plot) | ("I Was Murdered by the CIA" junkyard performance) |
| | |
| --- | --- |
| | |
| Subterraneans Show Video sleeve (1984) | "I was murdered by the CIA" stills contact sheet (1984) |
During the 1984 Xmas holidays, Notorious Sandwick D-movie director Coinneach "Call Me Ken" C Livingstein III approached the band and persuaded them to make one of them new fangled rock videos.
Livingstein worked strictly to the 50s trash exploitation movie formula, and "The Subterraneans Show" ticks all the boxes - indecipherable plot, poor lighting, flying saucers, commie spies, drive-ins, giant mutant lizards, fast cars, intrusive advertising, chicks (ok, one chick), gee-tars and rock n roll. It's even got its own B-feature in the middle.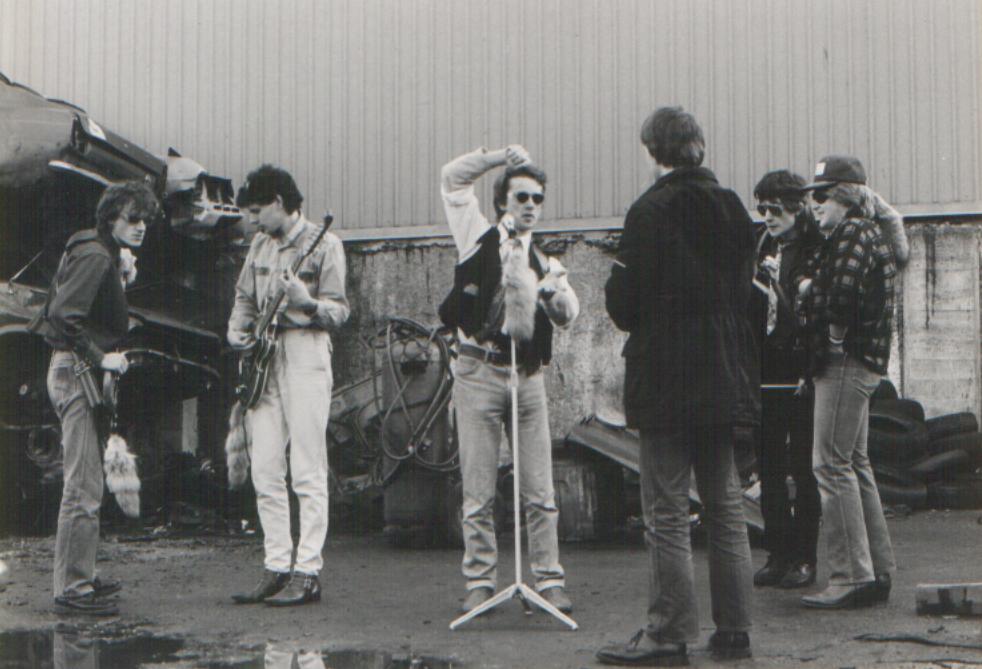 Future professional auteur Emil the Shrink (centre) rebels against directions from amateur Livingstein
Shot on super-8, in Newvalley, Sandwick and Inaclete Road, the film hung a tenuous plot around 4 of the 5 tracks recorded at Tong Studios the year before... "Hi Heel Sneekers", "Who Do You Love", "Wherewolf" and "I Murdered by the C.I.A". Super-8 film wasn't particularly cheap, so Livingstein bulked the movie out with copyright-free stock bought from an amateur film-makers' magazine. These included dubious Korean Godzilla knock-off "Yongary - Monster from the Deep, and a couple of old 50s-themed Pepsi Ads in which a super-cool Fonz-type dude drives all the chicks crazy by offering them Pepsi from the leopardskin-lined built-in fridge in the back of his tail-finned '55 chevy (or whatever it was).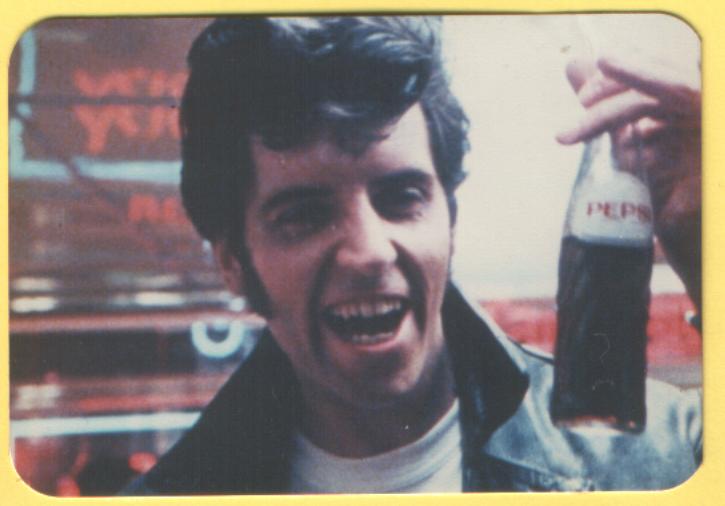 Hey-y-y-y!!!! Memphis Louie's cousin (maybe) Peter Blake fae Selkirk knows what makes the chicks miss a beat. Classy.
Set in "Lewisiana, 1955" The movie opens with Bob Bitchin' in his shotgun shack, combing sump oil into his DA in preparation for a big Saturday nite out. Before exiting, Bob executes a wonder-woman-style spinning manoeuvre and turns into Etheridge Lockjaw Jones 1st, a subtle plot device introduced when it was realised that Bob didn't have a licence but was required to drive in the next scene.
Out on the road in his VW Beetle, Bob (Etheridge) spots local Southern belle Mary-Lou Hogslobb (Alyth McCormack) out and about with her hula hoop.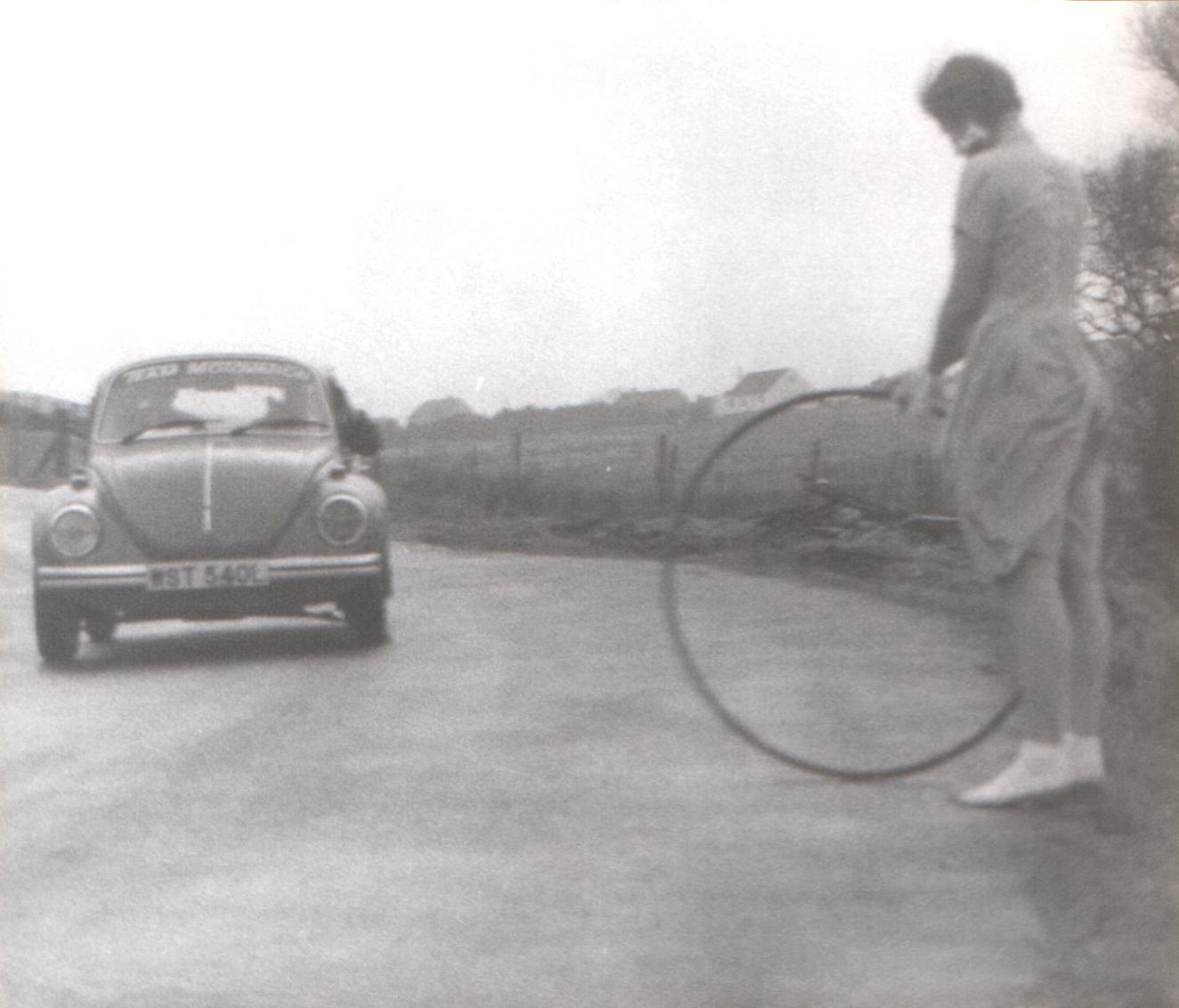 Consulting his book on "How to Pick up Chicks", Bob proffers 2 small bottles of Pepsi. Mary-Lou is duly impressed and off they head for the drive-in. Man, things were simple back in 1955.
Strumming his gee-tar at the side of the road, Leroi Z Coondawg observes the Beetle passing, and is overcome with passion at the sight of Mary-Lou. Leroi sets off in pursuit in his (slightly anachronistic) Ford Mustang.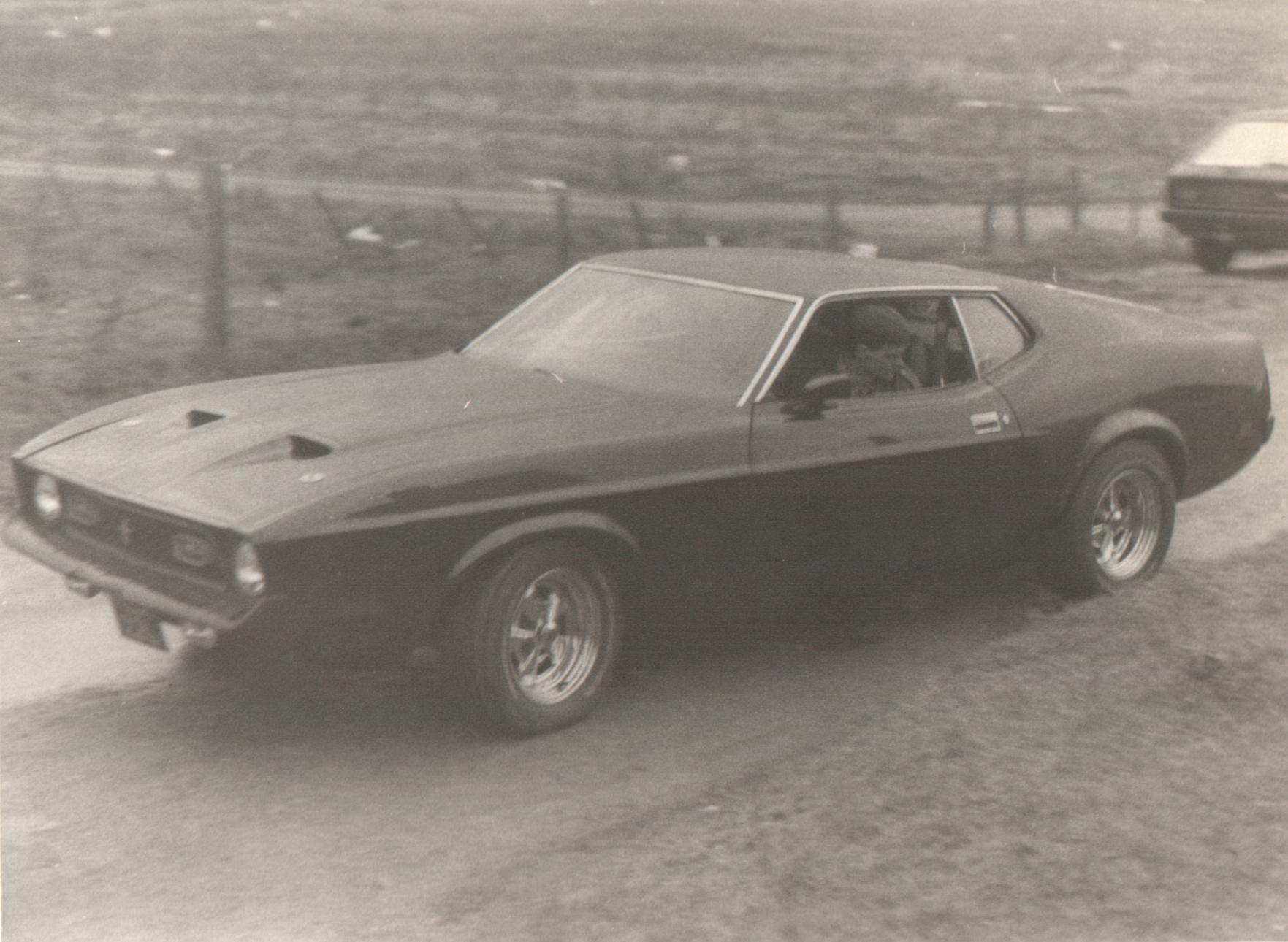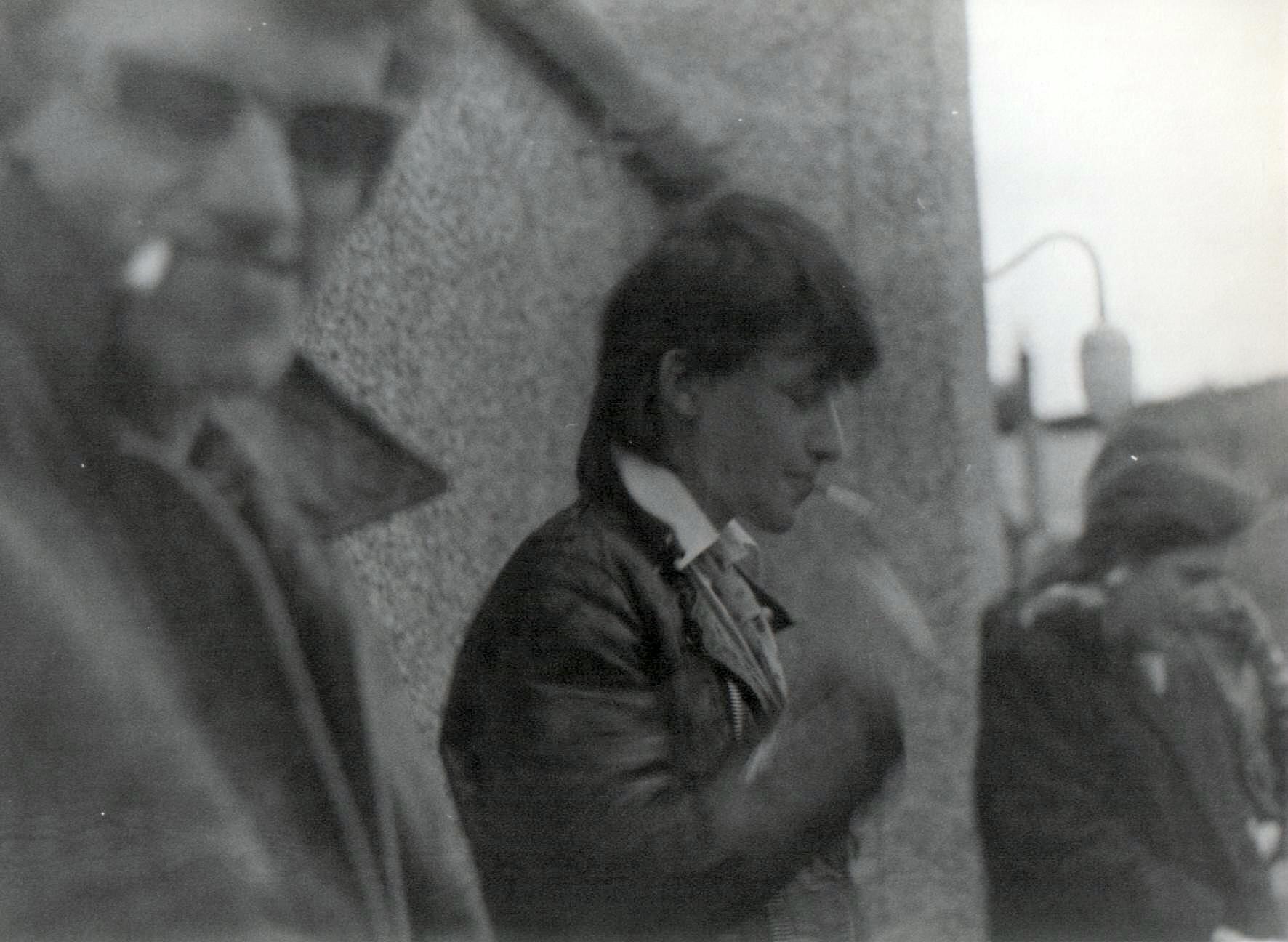 Everyone ends up at a drive-in, where Leroi produces a giant 2-litre bottle of Pepsi. This immediately convinces Mary-Lou to dump Bob and jump into Leroi's Mustang. Meanwhile, however, the proprietor of the drive-in has turned into a werewolf as a result of the full moon. He bites Leroi, who is then similarly transformed. When Mary-Lou notices a big furry paw on her shoulder she makes a sharp exit back to Bob's VW, and a car chase ensues. At the same time a UFO appears and for no obvious reason sets about destroying the drive-in with a death ray. Bob and Mary-Lou speed off with the werewolf Leroi in hot pursuit, and the flying saucer chasing everyone.
At this point there's an intermission, presumably to allow everyone to go and buy more Pepsi. A long and tedious segment of "Yongary - Monster from the Deep" appears as the "B-feature". Once Yongary has had his reckoning with the South Korean authorities and we've had another Pepsi ad, it's back to the Subterraneans.
In the final scene, the band are beamed down from a flying saucer into the junkyard next to Hebridean Tyre Services, on Inaclete Road, and play "I Was Murdered by the CIA". During the course of the song, agents of the CIA, KGB and Ku Klux Klan all threaten the band but are dispatched by a 44-magnum wielding Emil the Shrink.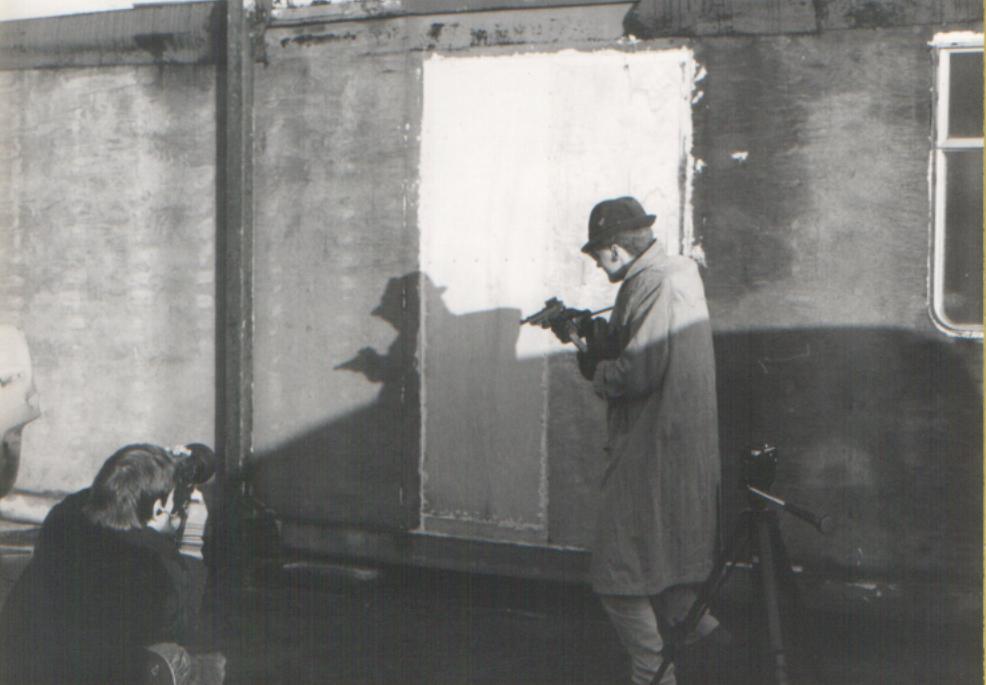 And that's about it.
Ken entered the film in a couple of competitions without success. The sole surviving VHS copy was lost one Friday night in 1988, when intoxicated Johnny & The Deadbeats frontman Johnny "Psycho" Watson mislaid it in an Edinburgh taxi.
In 2006 the original cine footage was rediscovered in Director Livingstein's shed. The reels were digitally remastered by Moja TV supremo Kenny "Fraochie" Stewart and the extensive team of specialists at his hi-tech research labs. Livingstein then re-edited Fraochie's digitally remastered footage together into a form that's probably sort of like it was before it got lost.
As well as the Video on YouTube, you can also view more Stills shot at the time.
"The Subterraneans Show" is also available on DVD to old Subterraneans and diehard fans. Along with the DVD comes the definitive Subterraneans compilation CD "Swamp Psyche & Garage Fuzz - Lost Sounds from the Leodhasach Trashbeat Era". This combines stuff from the band's 2 straight-to-cassette "releases": "Garage Fuzz" (1983) and "Swamp Psyche" from (1984), padded out with dodgy "previously unreleased" front-room rehearsal stuff and the not-so-good takes from the "Garage Fuzz" Sessions.
In addition to the band and Alyth, the video featured Derek "No Head Jackson" Macleod as the drive-in proprietor/werewolf, future Chicago arts impresario CJ Mitchell as the CIA agent, Swedish TV's Rod "Prof" Macrae as the KGB and a man in a white coat, and pop crooner Roddy Huggan as another man in a white coat. Cool cars were supplied by Chris Kennedy and Norrie Maclean.
Yongary Monster From the Deep guest starred as himself.
If you'd like a copy e-mail the Subterraneans at subterraneans@guireans.com and we'll send you one free. If you ask nice.
---