Spinoffs
This page is gonna cover later bands that included members of the Subterraneans or Memphis Louie an' the Rockin Firebirds of Death.
Memphis Louie and Etheridge Lockjaw Jones Ist have been playing the most over the years, but refuse to talk about the various dodgy covers bands in which they've been employed! See the Memphis Louie Studebaker and Etheridge Lockjaw Jones Ist pages for information on their respective non-garage projects.
Any other former Subterraneans gone on to other bands they want to mention?
---
1986/7 Yuji Oniki - Clearly Yuji Oniki is not himself a Subterraneans spinoff. However... In Autumn 1986 Leroi Z Coondawg answers an ad in Edinburgh for musicians into Big Star and the Soft Boys. Ends up jamming with Chilton-obsessed Japanese American exchange student Yuji for the duration of his stay. Recorded a sing called "Ghosts" at some basement studio in Manor Place, Edinburgh in January of 87.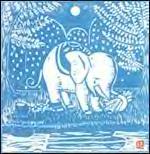 Yuji Oniki's 2001 "Tvi CD". Couldn't find a picture for the much earlier "Shonen Blue"
Yuji has subsequently made a bit of a name for himself in the jangly mellow singer/songwriter business, working with Doug Gillard of Guided By Voices and being accused of sounding like Bread. Doubt if "Ghosts" ever made it onto anything Yuji released, but not sure.
---
1987/88 No Head Jackson an the Sharecroppers from Hell
Derek "No Head Jackson" Macleod, occasional Dark Visit/Subterraneans stand-in vocalist, recruits Leroi Z Coondawg for a 1-off, to play a gig that his recently split punk band The Obsession were booked for. A quick set of Stooges/Ramones/Seeds/Blind Gary Davis etc covers is knocked up with Edinburgh dudes Andrew "Captain Dirigible" Wilson (Nightcrawlers/Architects of Fear) on rhythm git-tar, Andy "Slowhand" Akhtar (Pterodaktyls) on lead and Derek "Deek" Irvine (also Pterodaktyls) on drums.
Andy and Deek return to the Pterodaktyls after the gig, but No-Head, Leroi and Dirigible jam around occasionally for another few months. Trainee social worker Memphis Louie joins them on drums while he's down in Edinburgh on a placement. No further gigs. There's a live tape of the October 87 gig and a practice tape of the second line up recorded in Niddry Street rehearsal rooms in 88.
---
1988/89 Johnny & The Deadbeats - After falling out with the Pterodaktyls, Andy and Johnny "Psycho" Watson are looking to form a new band in a garagey vein. Leroi is hired on bass, along with Calum "Pterodaktyl" Macdonald and a succession of drummers, including Glen "I can play the Drums" Mohammed, Iain "I've got a van" Fraser (excellent drummer but left because he had another band on the go) and finally Donald "Kiwi" Maciver (from Sad Day We Left The Croft veterans the Bruce Wayne Band).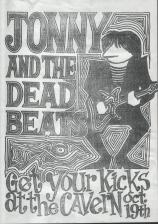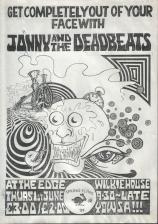 Johnny And The Deadbeats Posters, 1988/9
The Deadbeats build up a set and play a good few gigs around Edinburgh in 88/89. Andy and Kiwi leave to form a blues band in August 89. Leroi and Johnny limp along with occasional jams and Dave "16 Dillons" Nelson on farfisa organ/guitar. However, despite repeated and sometimes traumatic drummer/guitarist auditions they fail to find anyone else and decide to call it a day in 1994ish.
One particular low point in this later period was auditioning an elderly drummer who claimed to have been a member of Procul Harum and to have written "Whiter Shade of Pale" on a roll of toilet paper one Friday night in a pub. He wanted to play Frank Ifield covers.
The full story can be found on Johnny's pages for the band, part of his excellent In The Garage site covering garage music in general, the 80s Embra garage scene in particular and loads of other stuff besides...
---
2003 - Memphis Louie an the Rockin' Firebird of Death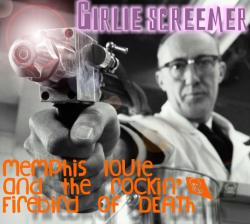 Note the singular Firebird here - this started out as just Memphis Louie Studebaker and Leroi Z Coondawg, who got hold of some home studio software and recorded "Girlie Screemer" one evening in summer 2003. After a bit of airplay on Radio Nan Gaidheal and Isles FM, plus feedback on http://www.garageband.com/artist/mlatrfod their egos were boosted and they decided that the world was desperate to hear more. Recruiting notorious Rubhach backing vocalist/producer Ossian Stormwatch III, they resolved to do more stuff when geography and time allowed.
They're since been working on a number of other songs, several of which are up on Garageband, including versions of some of the old Subterraneans/Memphis Louie & The Rockin Firebirds of Death originals that never made the studio back in 83/84/85 - For the latest news see their myspace page.
---