21 July 2004 : Guireans Manager Ken Launches 25th Anniversary T-Shirt Special Offer!!!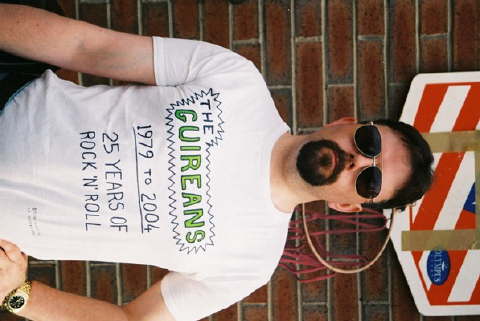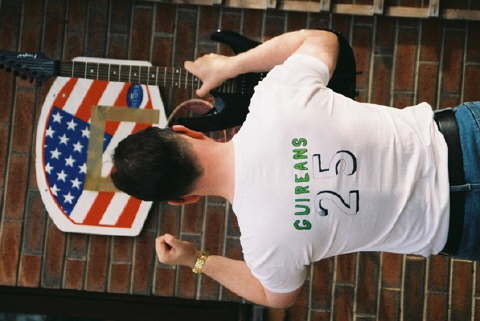 Sandwick, Yesterday: Plook Records CEO and band manager Ken "Coinneach" Livingstone opened this year's long awaited Guireans 25th Anniversary hype extravaganza by lauching his new range of "tasteful" souvenir designer wear, modelled, naturally, by himself.
A select group of fashionistas from the top trade publications were invited to Ken's high profile launch party at the North Street fank. Unfortunately Vogue and Cosmo were unavoidably detained, but well known sartorial trendsetter Geordie Golidy and legendary Plasterfield style queen J*** Sc*bie were close at hand.
"You too can look slightly suspect", said Ken as he sashayed down the cacwalk, "in this 100% polyester chemise de T, with its unique hand drawn Guireans logo in genuine biro pen".
You can order your very own Guireans 25th anniversary T-shirt direct from Coinneach at kenlivingstoneca@hotmail.com, price £25 plus P&P*...
*P&P £50. One size only. Allow 28 months for delivery. Non washable. Non wearable (may previously have been worn by Ken). No refunds ever under any circumstances.