Guireans - Film & Video Appearances
Founding Guirean Ken "Francis Street Coppola" Livingstone always had aspirations to be a top Hollywood film director, and for some reason thought that the Guireans might help him get there..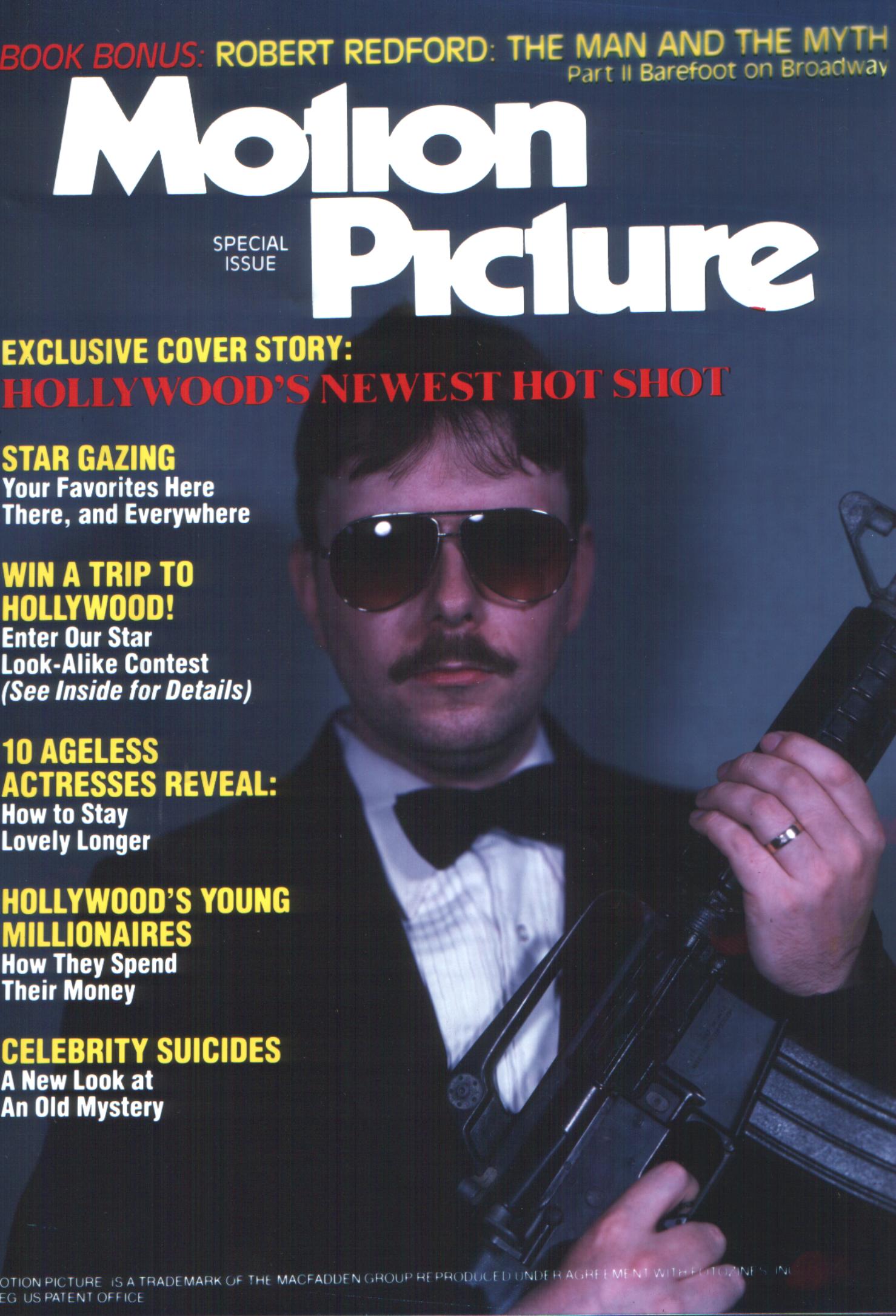 Inexplicably snubbed at the Oscars for the 26th year running - after once again hiring a tuxedo and preparing a 4-hour acceptance speech - embittered Director Ken "The Terminator" Livingstone prepares to take his revenge on the Academy.
Consequently the Guireans' legacy isn't just confined to audio, but includes a number of film and video appearances as well. Like the tapes, these were mostly consigned to the back of a cupboard with great haste after they were made.
It is generally acknowledged that the Guireans didn't look any better than they sounded, but for the determined, the catalogue of productions in which the Guireans have featured is as follows:
---
The Guireans Video (September 1981)
Ken Livingstone IS Ritchie Blackmore IN A Ken Livingstone Production, Produced by Ken Livingstone. Directed by Ken Livingstone. Starring Ken Livingstone AS Ritchie Blackmore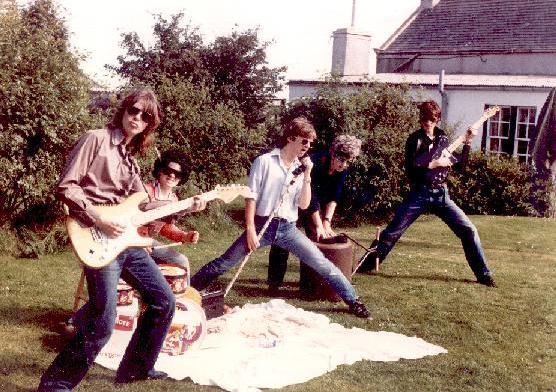 Personnel (Left to Right in photo):
Ken (Ritchie Blackmore Ramone) Livingstone : Guitar (Mimed); Flares and Hair Flapping
Jimmy (Paice) Petrie : Chad Valley Drums (Mimed), Dodgy Wig Wearing.
Gordon (Gillan) Macleod: Vocal (Mimed); Broom Handle, Posing
John (Lord) Allan: Keyboard (Mimed); Dodgy Wig (2) Wearing
Iain (Glover) Livingstone: Bass (Mimed) – with a 6-string guitar
Ken "Coinneach Russell" Livingstone had just got his very first sound cine camera, and decided to teach himself to sync up a soundtrack with the visuals on Super-8 film. To this end he decided to make a pop video, and not knowing any proper bands he chose to get the Guireans to mime to Deep Purple's "Fireball" in Gordon's back garden.
There was one minor snag; everyone had already left the band in the wake of the disastrous lost second album "EMI Cassette Super C60". Without exception they had decided that being in the Guireans was really uncool. James ("Awright, Yoko") Petrie had even gone as far as staging his own assassination in order to dissociate himself from the band and regain some semblance of credibility (See Tapeography entry for "EMI Cassette Super C60" ), so by this stage he was supposed to be dead.
However, Ken ("The Persuader") Livingstone did a bit of fast talking and, through a combination of vanity, gullibility and crass stupidity (his and theirs), managed to get the original line-up to relent and get together one last time, including the late Mr Petrie - who looked remarkably well under the circumstances. The fact that no musical skills would be required this time as all they had to do was mime to someone else's song - and pose - was doubly appealing to Gordon and Ken, as can be seen from the exaggerated posturing in the picture.
Nevertheless, there were musical differences as Ken and Gordon fought bitterly over the choice of a backing track. Gordon was strongly in favour of a more contemporary (ie trendy) song being chosen. Luckily, nobody else knew how to mime in a Duran Duran style and so Gordon's choice was abandoned in favour of the marginally less embarrassing Purple number.
Unfortunately Bass mimer Iain ("Heyyyy - I'm The Fonz, cove") Livingstone hadn't studied many Deep Purple videos, and had only a limited repertoire of anachronistic Elvis and Johnny Cash poses to draw on, as can be seen from the photo.
Paice and Lord's wigs were supplied courtesy of school drama club luvvie Ken's old mentor, Steinish thespian Brenda Macleod. (The same wigs were also seen in Ken's 1977 LA Cop movie "Turkey and Smutch").
---
Un film de Ken Livingstone avec Ken Livingstone etc etc.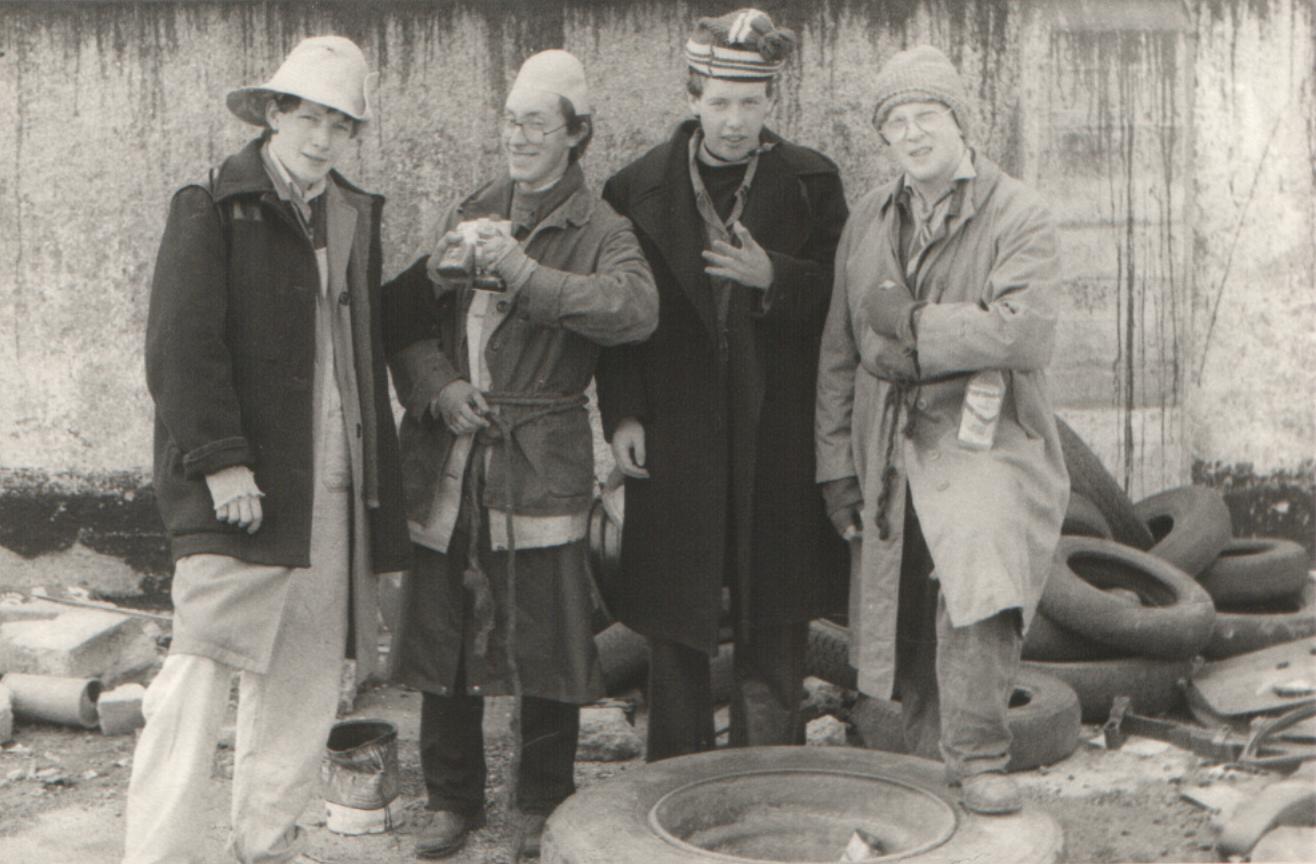 Not The Guireans - "Les Mauvaises Jeunes" was a "star vehicle" for Newvalley Art Rockers and Dexy's Midnight Runners lookalikes Swedish TV - L-R: John "Pluckan" Murray, Rod "Prof" Macrae, Neil "Huggan" Huggan, Alex John "Guinness" Kennedy.
Personnel:
Iain (Deadstone) Livingstone : Bass; Chanter;
Alasdair (Bod) Mackay: Guitar; Screaming
Roddy (Huggan) Huggan: Screaming.
Aspiring auteur Ken had noticed that the French directors who made the weird films on BBC2 on Saturday nights received a critical acclaim sadly lacking in his own sputtering career. The obvious solution was to make an arty French film right here in Le Wis. The film was loosely scripted as a vehicle for cerebral Newvalley art rockers Swedish TV and their (coincidentally French) song "Nous Sommes Merde". However, it featured a cameo appearance from the Guireans as Avante-Garde Jazz ensemble Les Arts Farts. The Farts, while busking in the Swing Park in Bayhead, are "tragically" gunned down in slow motion by a woman (actually Derek (No Head Jackson) Macleod in a beannag and a raincoat) who has escaped from an insane asylum, and that's the last we see of them.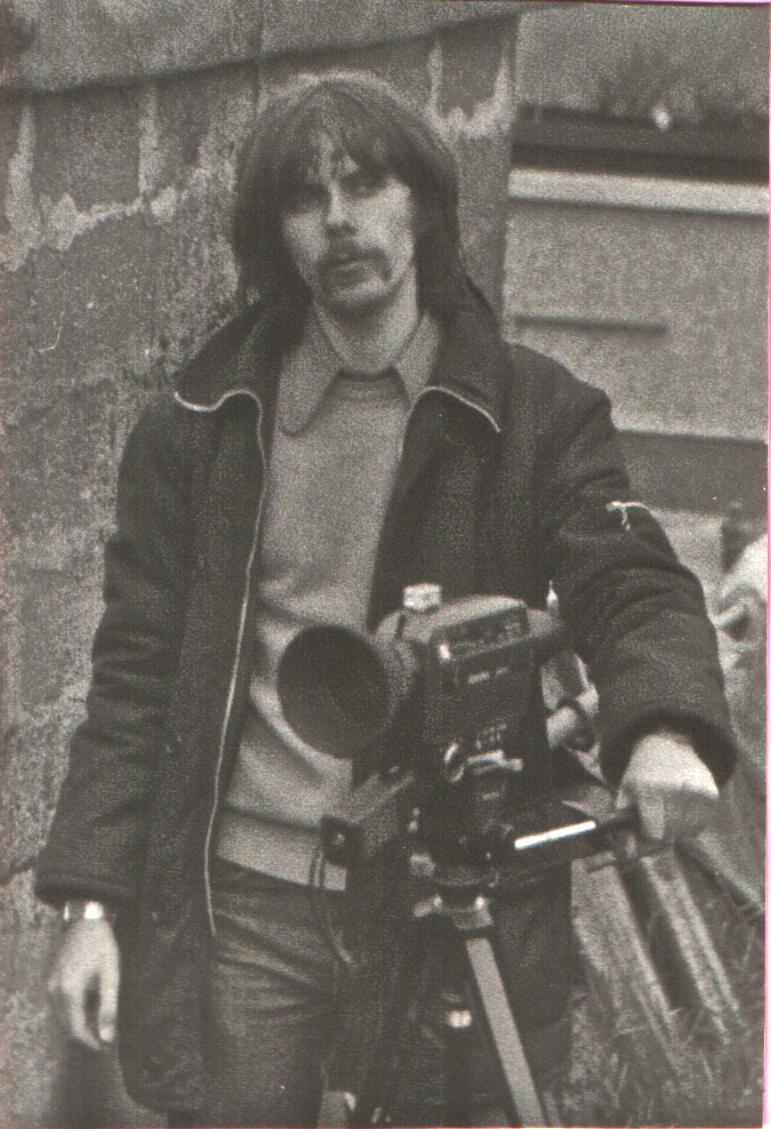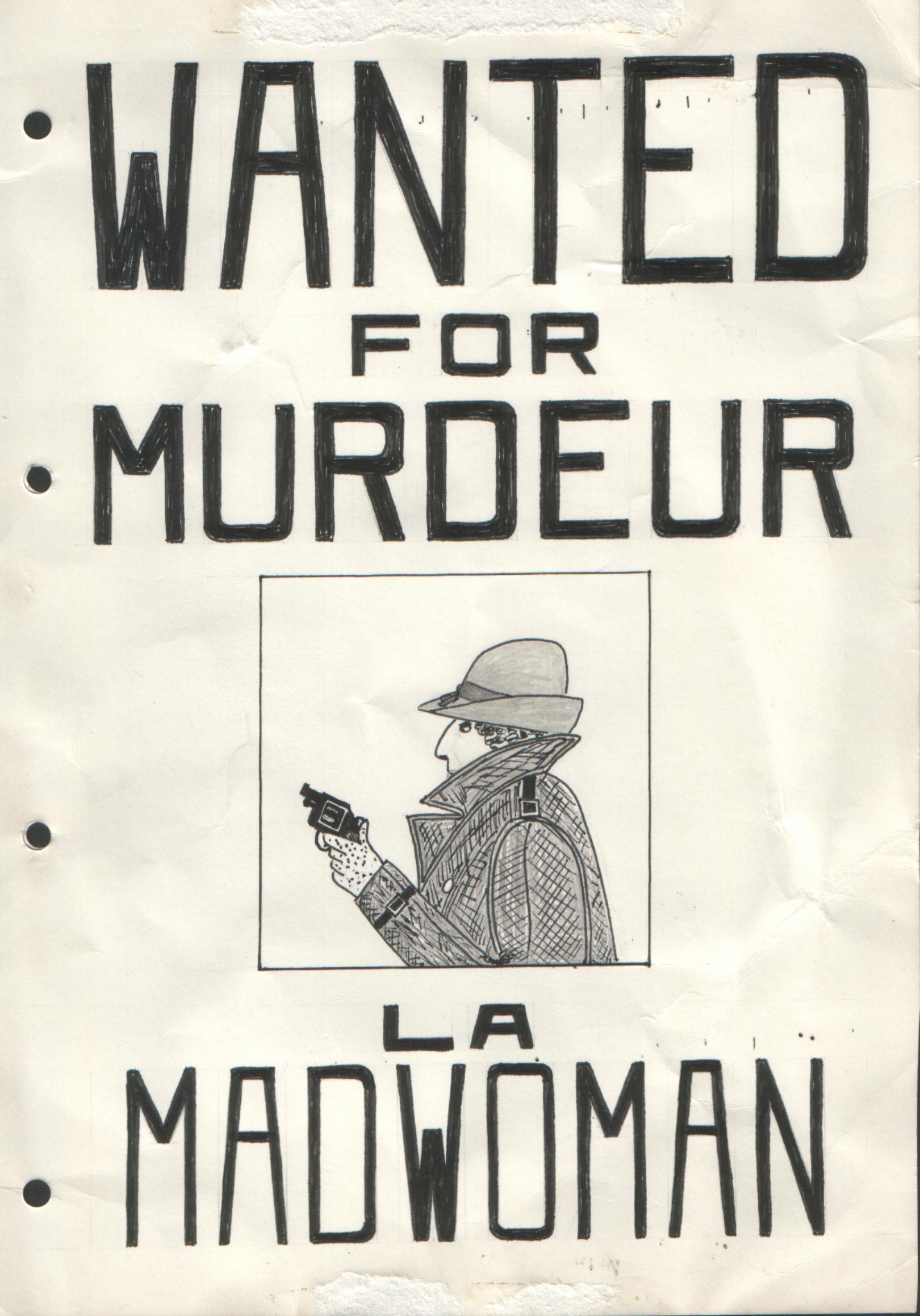 Left : Auteur Ken poncing about with Mexican moustache on the set of Les Mauvaises Jeunes.
Right : Wanted Poster for the Madwoman who guns down Les Arts Farts (played by the Guireans)
The track to which they mime is their own "B Mucus for Bop People" from "Olacs Vol 79". Screaming on the recording is actually all by Ken Livingstone but he does not appear as Un Art Fart in the film.
Sadly Juliette Binoche was not available for sex symbol duties in this particular French film, and the obligatory femme fatale was played by Grande Dame of the Stornoway Thespians Mavis Laing. Now there's a Dun Ringles connection for you.
Other notable cameos in the film came from Roddy "Bingo" Macdonald as the obligatory recurring street accordionist (playing "Y Viva Espana" as it was the only "continental" sounding non-danns a'rathaid tune he knew), and former Rong manager Roddy "M*h*n" Maclean as Le Cake Shop Proprieteur. Le Cake Shop Proprieteur is an uncaring petit bourgeois, unmoved by the plight of the starving Swedish TV as they drool at the gateaux in his window. Maclean's lip synching is particularly memorable he urges the hungry musos to "go away".
See The Photo Album "Guireans on film" for more arty-farty B&W stills from the "Les Mauvaises Jeunes" shoot.
---
Guireans on 45 2001?
Roddy (Brown Envelope) Morrison, Tax Free Actor and Musician – Guitar, Vocals
Roddy (Huggan) Huggan – Vocals
Aly Macrae Oatcake – Bass
An Other Oatcake - Drums
Roddy Huggan's sprog Alasdair – Bez duties
Live appearance at Deadstone and Fiona's wedding, Caol Community Centre 28 July 2001. While Roddy (I'm a professional, you know) Morrison's "proper" band the Oatcakes take a break from playing a storming gig, the 2 Roddies, aided and abetted by the bassist and drummer from the Oatcakes and by Roddy Huggan's sprog Alasdair (4ish) on "Happy Mondays style guy who stands around and does nothing" duties, shuffle on and do "Walk on the West Side". Sadly Ken "Unaccustomed As I Am" Livingstone had already expended all his video tape recording his own 2-hour best man's speech, and thus failed to capture the magic moment. Is it possible that someone else recorded this historic event – the first Guireans gig of the new millennium?
---
Midges of Rock 2003
Roddy Huggan - Vocals, Guitar
Dead Olac Guirean Jr - Bass, Keyboards, Chanter
Niall Hippy - Vocals, Bodhran (for fleek's sake).
Wattie & Jason Dun Ringle - Stage Invasion & More Vocals
Several mind-numbing hours of AGOFR featuring The Guireans as well as The Dun Ringles, Cyclefoot, Zing-Pop, Swedish Transvestite etc etc performing at the legendary Midges of Rock festival in Knock in 2003.
Shot with a single static video camera, so the only occasional excitement is when one of Wattie's wee coves crashes into the tripod and it shoogles a bit.
Nobody's ever bothered putting this up on YouTube so you can't see it. But the songs will be the same as those on the 3-CD box set of the festival "How Much More Cac Could It Be"
Go to the Midges of Rock 2003 page and read about it instead.
---
Breaking News 13 August 2003 - Ken's New Movie...
Forget everything you read above - our Hollywood correspondent reports that portly accountant and amateur camera botcher Ken "Ten Ton Tarantino" Livingstone has finally hit the movie big time, appearing to rapturous jeers at the World Premiere of "his" new film
Solid Air
at the Glasgow Film Theatre last Saturday.
Starring Maurice Roeves (thon cove out of Tutti Frutti who wasn't Robbie Coltrane or Victor Meldrew), "Solid Air" is a film about somebody or other with asbestosis in Glasgow. Evidently the plot isn't as good as Ken's earlier efforts such as The Six Dollar Man or Les Mauvaises Jeunes but there you go.
The ever-modest Ken says he's chosen to take a back seat role in this particular production in order to let his protege, rookie director May Miles Thomas find her feet. Apparently this explains the fact that you have to wait until the lights go up and the cove that sweeps up the popcorn is nearly finished before his name finally appears in the credits.
Not only that, but the self-effacing movie mogul didn't even complain when they mis-spelt his "Auteur" credit as "Auditor".
Rumours that "Solid Air" could be in the running for next year's "Best Accounting on Set" Oscar were not denied by Ken yesterday.