How Much Mor Cac Could it Be? - The Midges of Rock 2003
(3-CD boxed set also featuring The Dun Ringles, Cyclefoot, etc etc)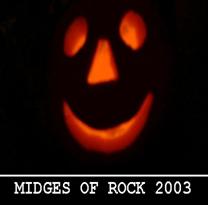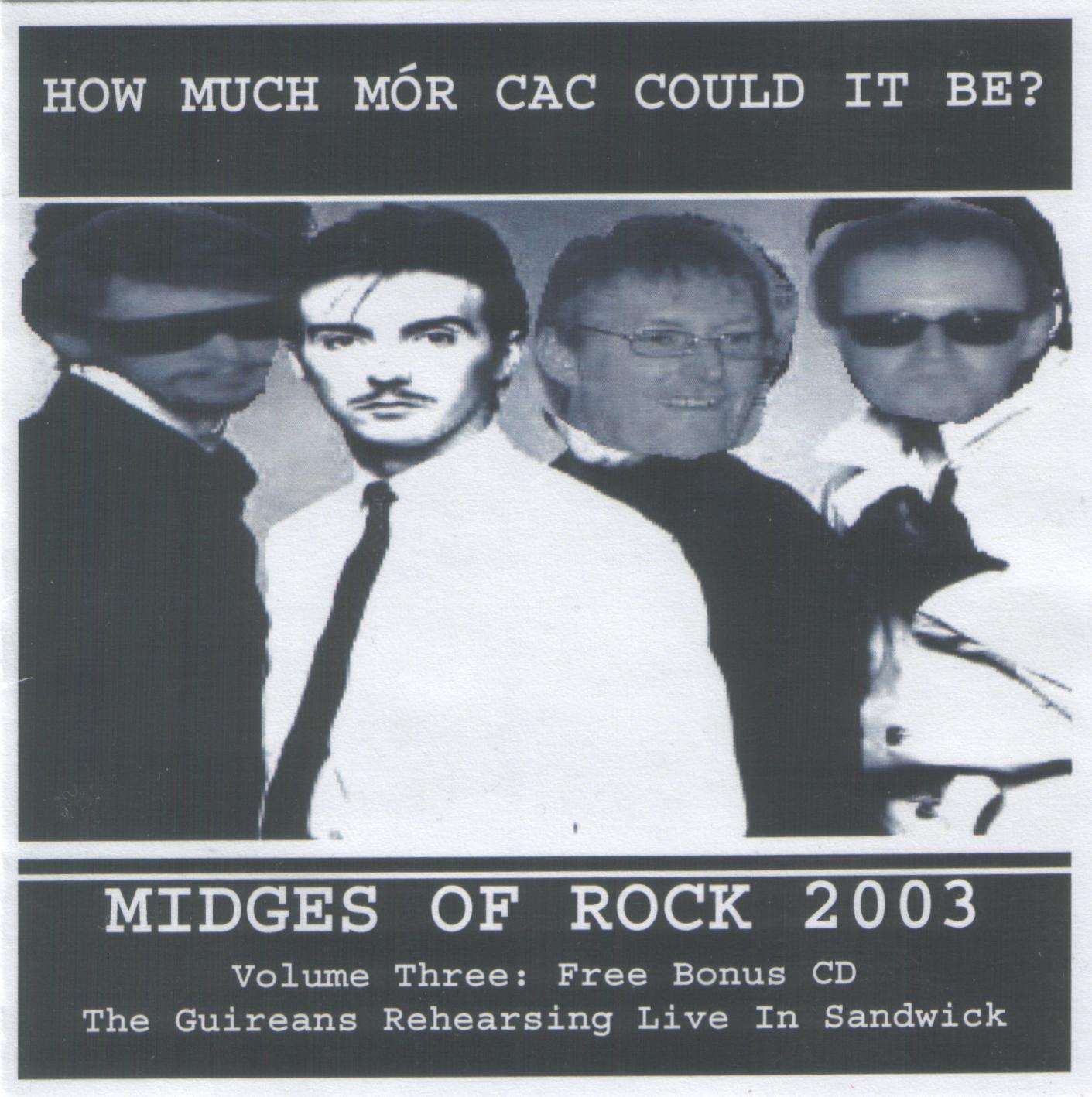 Obh Obh! Knock Studios, September 6th 2003 was the first Midges of Rock festival since the debacle of Midges of Rock 1983, and despite the passage of time the AGOFR movement was able to muster an "impressive" number of bands to play it.
"Have None of These People Grown Up and Got Sensible?" ran the headline in the next quarter's 'Steinish Livestock Classifieds'. In fact, most of them had, and the 8 and a bit bands who played the gig were made up of various combinations of the sad and retarded few (5) who had failed to build any kind of meaningful lives for themselves in the intervening twenty years.
The Guireans line-up for the evening was Roddy "4-bands" Huggan, Iain "Dead Olac" Livingstone and Neil "Still The Hippy" Shaw, with drums being provided by Dead Olac's dad's Casio keyboard. Dead and Roddy had a bit of a practice in the garage in the afternoon before heading down to Knock, and taped it. The performance is marginally less bad than the actual set from Knock Studios, so Tape Records released it as the 3rd "Bonus" CD of the set.
Neil Hippy appeared just as the practice session ended, after driving around Sandwick all day looking for the house because he'd only been there twice, and that was in 1985. Only when he noticed the distressed livestock in the vicinity of the garage did he realise that this was where the session was going down.
After the recording, management at Tape Records decided that the live album could be marketed to da kidz on the basis that they'd buy any old cac. Tape CEO CJ Mitchell (74) hired supposedly ledgendary Hip Hop producer Ossian Stormwatch to create a chartbusting Urban-music award-winning dance single to "misreprazent" the content of the box set, so that it would sell in da hood. Unfortunately Stormwatch was arrested before he and his associates DJ Dun Ringles and The Guireans Posse could complete the final cut of "Jazz Mucus for Funky Peatstacks", an innovative combination of the Guireans' 1982 "Jazz Mucus for Fank People" with the Dun Ringles 1992 "Funky Peatstack".
Stormwatch was apparently the owner of a distinctive 1958 Fordson Dexta involved in a drive-by in Cross - witnesses reported that the gold-plated low-rider tractor drove by the church with a trailerload of peats several times while the Sabbath evening service (Gaelic) was going on inside. At the moment the rap legend is languishing on Death Row in Ness's San Ang*ssm*th prison. Unless the governor of Ness reprieves him from the usual sentence of death by the electric guga then we'll probably have to be content with the half finished version on CD3.
There's a full write-up and reviews of the gig itself on the dedicated MOR 2003 page.
Tracks
Volume 1
Cyclefoot - The Cyclefoot Theme
Cyclefoot - Ang*s McC*rm*ck's Not Dead
Iain Watson's Original Zing-Pop - The Riders of Rohan
Sheep Purple - Black Flight
Swedish Transvestite - Again
Swedish Transvestite - Hans
Bod Strummer & the Dun Guireaneros - I Fought The Maws
Bod Strummer & the Dun Guireaneros - Should I stay or Coinneach Gobha
The Guireans - (You Gotta) Fight for the Right To Ceard-y
The Guireans - Coldpray Mucus for Petrie People
The Guireans - WISCO Remix Hi-NRG Styleee 2003 (Jazz Mucus for Fank People/You Think You're a Maw/Danger! - High Moltage/Industry (Gut Factory)/Jazz Mucus for Fank People)
The Guireans - H*bba Nice Pray
The Guireans - Sk8 Boi/Ceards in A-Marybank
The Guireans - REM Mucus for Ram People (S*ndy M*thes*n)
The Guireans - Velvets Mucus for Ailig Mhurchadh Neill's Shop People (Sunday Morning/Herri-ing/Waitin for the Bus/Walk on the West Side)
The Guireans - Crowdie Mucus for House People
The Guireans - Pairclife
The Guireans - Todhar (De Math a tha e)
Volume 2
The Dun Ringles - Gunhilted
The Dun Ringles - Beyond the Cattle Grid
The Dun Ringles - A Tale of Two Tractors
The Dun Ringles - Bee Without a Bumble
The Dun Ringles - Peter Dan the Rubber Man
The Dun Ringles - Cromwell Street Congregation
The Dun Ringles - I Don't Like Sheep
The Dun Ringles - Giraffic Park
The Dun Ringles - Diggum Da
The Dun Ringles - Funky Peatstack
The Dun Ringles - Calum B Sound
Avante Gaelic All Star Ensemble - Feed the Sheep/Freechurch
Free Hidden Track : Ossian Stormwatch presenting DJ Dun Ringle vs the Guireans Posse - Jazz Mucus for Funky Peatstacks Dance Remix
Volume 3 (Bonus CD - The Guireans Not Live at the Midges of Rock)
(You Gotta) Fight for the Right To Ceard-y
Coldpray Mucus for Petrie People
WISCO Remix Hi-NRG Styleee 2003 (Jazz Mucus for Fank People/You Think You're a Maw/Danger! - High Moltage/Industry (Gut Factory)/Jazz Mucus for Fank People)
H*bba Nice Pray
Sk8 Boi/Ceards in A-Marybank
Velvets Mucus for Ailig Mhurchadh Neill's Shop People (Sunday Morning/Herri-ing/Waitin for the Bus/Walk on the West Side)
Crowdie Mucus for House People
Pairclife
Todhar (De Math a tha e)
REM Mucus for Ram People (S*ndy M*thes*n)
Feed the Sheep