Alasdair Mackay Is God (Sorry - Bod) (2002)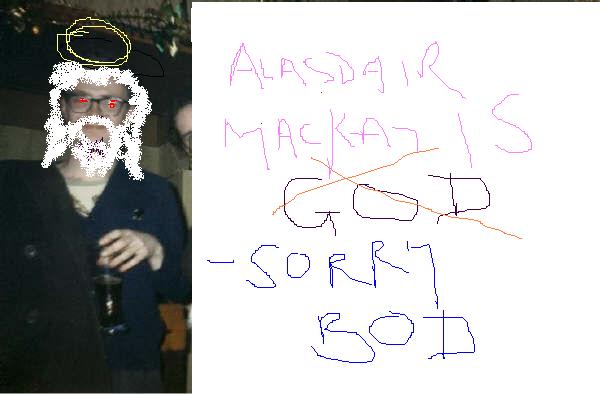 Sleeve ostensibly by
Competition
winner Roddy "Daddy, Where's My Crayolas?" Huggan.
But probably by Alasdair "Bod" Mackay really.
Personnel (perhaps):
Alasdair (Not Morrissey) Mackay : Producer and Just about everything else, allegedly
Roddy (Cadaverous Thespian) Morrison : Guitar, Vocals
Roddy (Day Release) Huggan : Vocals, Bass, Drums, Guitar, Chanter
Iain (Afrinman) Livingstone : Vocals, Bass, Drums, Guitar, Chanter
Iain (Wattie) Watson : Vocals, Bass, Drums, Camera Botcher
Jason (Mavis's Wee Axeman) Laing : Virtuoso Guitar, Vocals
(The Late) James Petrie : Vocals (recorded in 1980, just before his assasination)
Produced by Alasdair (God) Mackay, maybe.
Engineered, Mixed and Mastered by Alasdair (God) Mackay as well.
CD Digitally Remastered by Dunky (Meantime Groupie) Kerr aka Alasdair Mackay.
Recorded at undernourished muso Roddy "Rod Morison" Morrison's legendary Air (Is What I Had for Dinner) Studios, in one of Stornoway's less insalubrious suburbs. Started and finished on the afternoon of Friday 4 January 2002.
Roddy's suggestion that the band be renamed the Barony Square Knights in honour of the studio's location was unanimously rejected.
Mystery continues to surround the exact lineup for this recording, the Guireans' first full LP since 1989's "
J*** Sc**e is a H*m***x**l"
, but speculation centres around the role of arch-Guirean and alleged producer Alasdair "Warhol" Mackay whose trademark studio techniques - the subtle but deliberate use of inaudibility, crackling noises, dirty heads and the tape speeding up and slowing down - are evident throughout.
The Guireans had a lot of ground to cover, having missed out on the musical trends of most of the 1990s and early 2000s such as the Britpop explosion, the Spice thingy and all the inevitable recycling of crappy old disco under a host of trendy new names. The fact that most of the band were by now in advanced middle age and either hadn't heard half the songs they were "covering" - or couldn't remember them - was no deterrent. Witness Roddy Huggan's total absence of any resemblance to a Gallagher brother on "Oasis Mucus for Eagles Fixated Medallion People". Oasis? I am informed that they are a popular music hall artiste, your honour.
Track 4 was originally recorded by James (Checko) Petrie just before his staged assassination in 1980 (a career move following the failed
EMI Cassette Super C60
album). Having been rediscovered up the chimney of Geordie Golidy's Rayburn, the recording has been remastered and the surviving Guireans have added their contributions to it.
(Historical Note - Petrie's credibility, in tatters after
EMI Cassette Super C60,
was restored in truly Lennonesque style following his 1980 assassination. Everyone was very sorry after all the things they'd said about him, and decided that maybe he hadn't been as bad as the rest of the Guireans after all. However, in 1981,
Ken "The Pennypincher of Pop" Livingstone
persuaded him to appear in the Guireans' Video, which gave the game away a bit. Things were never the same for Petrie after that. Since death had not been drastic enough to dissociate him from the Guireans, he had to go a step further and emigrate to Benbecula).
Tracks 10-14 are reported to have included contributions from
Dun Ringles
Wattie and Jason "That's Not My Mother in Thon Ken Livingstone Film" Laing. The rumour mill states that they were helicoptered in from Melbost for an extortionate session fee by temperamental producer Bod, who'd become exasperated with the Guireans' incompetence and decided that they weren't good enough to play on their own LP.
Wattie, overawed at being asked to play in such legendary company, produced a camera and took photos. Unfortunately one of Wattie's offspring, displaying a precocious level of taste and discernment in the performing arts, flushed the camera down the toilet with the film in it, or set it on fire or something.
Considering that it was recorded in a single afternoon, it seems strange that AMIG-SB took an astonishing 11 months to be released. Industry PR experts are speculating that the delay was a marketing ploy engineered by Plook supremo Ken "Peat Waterman" Livingstone to increase public anticipation and tap into the Xmas 2002 market.
However, the real reason was the farcical running of the much undersubscribed Sleeve Design Competition, combined with geriatric Francis Rossi lookalike Dunky "Dun Berisay" Kerr's inept attempts at remastering and distribution
For Reviews and Press Releases related to "Alasdair Mackay Is God",
Click Here
.
Tracks :
1. Oasis Mucus for Eagles Fixated Medallion People
A tribute to the original Oasis. Who needs Cigarettes and Alcohol when you've got B*lly F*nlays*n and Eyeeeeballs and you can fit them into the same number of syllables?
2. Whole Lotta Bogie
Tribute to "An-gus" (The legendary "worthy" of North Beach, not the AC/DC cove).
3. Imitation of Brot
Attempts to splice REM's "Imitation of Life" and the Psychedelic Furs' "Imitation of Christ" but with only the vaguest memory of how either of them was supposed to go.
4. Free As A Church
James "Lennon" Petrie's 1980 pre-assassination bootleg rediscovered and rehashed by the surviving Guireans.
5. Spice Mucus for Wannabes
Tell you what I want.... this could easily be an ad for the Crofters' on Isles FM if Alex John "Duisg" Kennedy was doing the vocals.
6. Geri Mucus for Hen People
Luckily a very short burst of Hi-NRG. Did you hear about the Divine diet...?
7. Sympathy for the Ferry/Let Me Craig Dunain You
Did anyone else ever notice how the Fat Dancer's hit was a rip off of the old Stones number about the bad cove with the horns (not Big Bomber) who kept turning up at all the catastrophic events in human history?
8. Fran Mucus for Healy Sheep
This burst of vitriol would seem to indicate that Roddy Huggan doesn't like Travis very much.
9. Stan Mucus for Eminem People (Who Is the Real Jim Petrie?)
Nobody was young enough to know how this one went. So it's very short.
10. Back for God
Take That get the Curam. Evidently the Rev. C*mpb*ll is rumoured to be moving to Stornoway specifically to render the topical content of this song obsolete.
11. Pairclife
Displays Roddy "Townie" Huggan's lamentable ignorance of South Lochs geography. Abair "Mangersta"!
12. Rev Mucus For Dunky People by Afrinman (Cuz I Got The Curam)
Dunky asked for this one. Once again, we weren't quite sure how it went.
13. House Mucus for Crowdie People
A sensitive ballad on the topic of cloning.
14. Fishbox Mucus for Teenage Liobag People
Thon Wheatus cove is lucky he's just a Teenage Dirtbag. It's far worse being a Teenage Fishbox. Or even a Teenage Liobag.
15. Slocombe Mucus for Pussy People - Dram agus Bas Mix
(R Ewe Being Serviced/Fire Cearder/Elder/Murdoch On The Dancefloor/Don't Stop Liftin'/Fear A'Bhata/R Ewe Being Serviced)

The usual "Stars on 45"-style assault on a variety of dance hits, built around the theme from "Are You Being Served", which, somebody noticed, is what all these Jungle and Drum 'n' Bass records sound like. Yet another potential Lewis Crofters' ad, especially the bit where they realise that the store only has a ground floor.

Are you Free? Chan eil - 's ann a tha mi Continuing.