Bogie Goes to Bennadrove (1985)
Personnel:
Alasdair (Bod) Mackay: Guitar; Vocals; Drums; Harmonica
Roddy (Huggan) Huggan: Vocals, Drums, Guitar
Iain (Dead Olac Jr) Livingstone : Bass; Drums; Chanter; Vocals
Ken (Bandwagon) Livingstone: Vocals
Martin (Hank the Yank) Strell : Vocals
Neil (The Hippy) Shaw : Vocals
Sleeve by Alasdair (Bod) Mackay
Recorded in 3 different locations over a few months in 1985. Tracks 1-6 were recorded in the Dead Olac brothers' sitting room again over Xmas and New Year 1984/5, guest starring bemused American visitor and Velvet Underground freak Hank on vocals on "Waiting for the Bus". Tracks 7 and 9 were recorded at Noel Eadie's Croft studio in Tong (still using a cassette player, but with a real drum kit for the first and last time ever). The remaining Tracks were recorded in Huggan's kitchen one Saturday in the spring or summer of 1985, as is obvious from the variety of utensils pressed into service as percussion.
Guireans Manager Coinneach (The Other Accountant of Rock) Livingstone made a brief reappearance backing Neil The Hippy's lead vocal on "Gimme All your Bog Roll". Having heard that it was being recorded in a real "Studio" he'd obviously thought he could sniff fame and fortune.
In retrospect it seems Huggan was going through a Bowie phase at the time, with 2 covers on one C30. Track 11, "Iain Stardust & The Peatcutters from Borve", penned by Perceval Road cyberpunk and occasional Guireans vocalist Derek ("No Head Jackson") Macleod, was a classic, but there's a better version on "Hey Hey We're Gordon Macleod's Guireans".
For the anoraks among us, the Ukelele on "Zing Frankie Mix" was a very sad AGOFR in-joke. The hype surrounding dreadful Scouse mincers Frankie Goes to Hollywood was scarily reminiscent of the rhetoric surrounding ukelele-wielding AGOFR posturers Zing Pop a few years previously. The Guireans were convinced that Frankie's success was orchestrated not by pretentious ex-NME hack Paul Morley as claimed, but by Sinister Matheson Road Pop Svengali CJ Mitchell.
In 1981, Mitchell (58), known as "Not Another Fleekeen Accountant of Rock", masterminded the publicity stunt which was to become the model for Frankie's infamous "Relax" ban hype. Sales of Zing-Pop's inferior "Lord of the Zings" shot to an incredible 3 after Mitchell (71) cleverly didn't send it to Radio Nan Eilean and cunningly forgot to ask Maciver and Dart to put a copy on the shelf.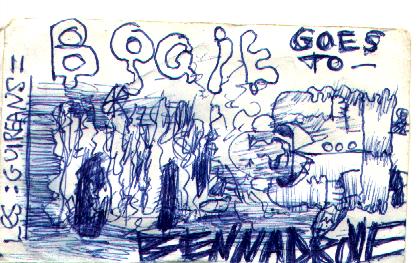 Alternative Sleeve by Alasdair (Bod) Mackay
Tracks:
1. See Murchaidh Play (Sid Mucus for Pink Sid Peepil)
3. Goat Mucus for McAlpine People
4. Dog Mucus for B****s People
5. Be Mucus for Bop People II
6. Waiting for the Bus (Hank Mucus for Yank People)
7. Zing Frankie Mix Next
8. Angus Mhurdaidh (1st attempt)
9. Gimme all Your Bog Roll
10. Angus Mhurdaidh
11. Iain Stardust & the Peatcutters from Borve
12. Cocktail Twits
13. Hippy Tigh
14. Sultans of Swainbost