Mehags agus Fuidheags EP (April 1984)
Personnel
Alasdair (Bod) Mackay: Guitar; Vocals; Drums;
Iain (Dead Olac Jr) Livingstone : Bass; Drums; Chanter; Vocals
Roddy (Huggan) Huggan: Vocals, Drums, Guitar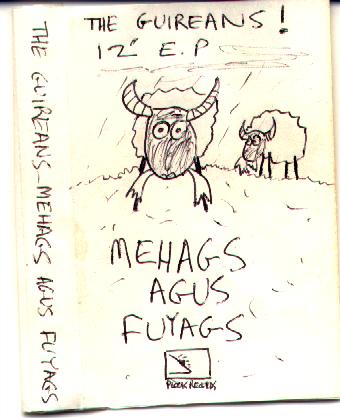 Sleeve by Iain (Can't Spell Fuidheags) Livingstone
Recorded in the Dead Olacs' sitting room on a weekday during the 1984 Easter holidays, as by this time the Guireans were all students and had plenty leisure time.

"Sunday Mucus", "Mehags in the Sky with Fuidheags" and "Rock Mucus for Roll People" acquired classic status but the remaining tracks have long since been (even more) forgotten.
Tracks:
1. Sunday Mucus for Curam People
A tribute to the V*lv*t Und*rground's song of amphetamine comedown, alienation and despair the morning after a night of louche living and bohemianexcess (or something). Except these bleigeards in Warhol's New York demi-monde had it easy - They didn't have to to get up and go to the 8-hour service at the Free Continuing Associated Presbyterian Church the next morning.
2. Big Mucus for Country People (Fields of Sheep)
3. Genesis Mucus for Boring old Fart People (B*gie)
This tribute to famous Stornoway "worthy" B*gie was inspired by a tiny slice of Genesis' "Mama" that contained a laugh which was scarily similar to B*gie's. That and the fact that Ph*l C*llins looks like him (some say) (allegedly).
4. Mehags in the Sky with Fuidheags
5. Hee Mucus for Ho Ro People
6. Simple Minded Mucus for Quo People
Yus. Somebody thought that the Mind's grandiose 80s monstrosity "Waterfront" sounded a bit like Status Quo
E**die C*chrane's "S*meth*ng E*se" reimagined slightly. "...Hey lookee there / across the croft / There goes that sheep again / I wanna marry her and live in a pen..."

8. Mehags in the Sky with Fuidheags (Reprise)